Quest Crew : The Best Dance Crew in America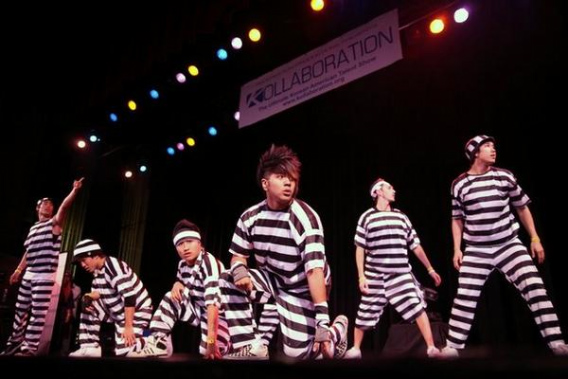 We are proud to present Quest Crew as our headliner of the ECAASU 2010 Conference this year! Winners of America's Best Dance Crew, Season 3, Quest Crew comes from the West Coast, based at the Quest Learning Center in Artesia, CA. Quest Crew members have been featured in SYTYCD, American Idol, music videos, stage shows, movies and television.
Website: www.questcrew.com
Penn Dhamaka will be opening for Quest Crew at the hottest party of the weekend: the Official ECAASU 2010 After-Party, hosted by the Penn Taiwanese Society, at Shampoo Night Club this Saturday night.
Details below:
DATE : Saturday, March 6th, 2010
TIME : 10:30pm - 2:30am
VENUE : Shampoo Nightclub, 18 to Enter, 21 to Drink
ADDRESS : 417 N. 8th Street, Philadelphia
TICKETS : $20 Pre-sale, $25 at the Door
TRANSPORT : ECAASU is providing complimentary shuttle service from the Sheraton Hotel.
See our After-Party page for more information.
Past Headliners
*Not in order of appearance.
Blue Scholars

After dropping one full-length album (Blue Scholars LP, 2005) and an EP (The Long March, 2005) the Blue Scholars have emerged as the latest in a long line of torchbearers for Seattle and greater Pacific Northwest hip-hop scene. The duo formed in early 2002 after ciphers and sessions in a makeshift attic-bedroom-studio in Seattle's University District, where emcee Geologic and DJ/producer Sabzi came from vastly different musical approaches to collide. One a distinguished battle emcee and poet, the other a former punk/ska drummer and jazz-trained pianist, the duo's backgrounds laid the foundation for a versatile combination of beats and rhymes at once political and personal.

Danny Cho

An unapologetic comedian who rants about unusual events from his life. While attending UCLA, Danny started performing stand-up at countless numbers of colleges and competitions. Through the power of Youtube, Danny soon became a star among the Asian American community and has shared the stage with Dave Chappelle, Tim Allen, Dane Cook, Bobby Lee, Russell Peters, and many more.

iLL-Literacy

iLL-Literacy—a collective of poets, emcees, and all-around fresh individuals—with a mission that seems simple enough: to have something to say, and for people not only listen, but want to listen. Call it spoken word, call it hip-hop theater, but never call it typical. iLL-Literacy has swept the corners of the globe with a blend of lyrical verse, innovative theatrics, and an addictive approach to audience interaction that has kept the crew traveling nonstop.

Jin

Inspired by veterans such as Tupac and The Notorious B.I.G., Jin began his career entering freestyle battles in local hip hop clubs where he was usually the only Asian participant. Jin went on to be inducted into BET Freestyle Friday's Hall of Fame and to become the first Asian American solo rapper to be signed to a major record label.

Bao Phi

Thien-bao Phi was born in Sai Gon, Viet Nam, the youngest son to two mixed blood Chinese and Vietnamese parents who raised him in Minneapolis. He was the first Vietnamese American man to have appeared on HBO's Russell Simmons Presents Def Poetry, and the National Poetry Slam Individual Finalists Stage, where he placed 6th overall out of over 250 national slam poets.

Tim Be Told

Combining elements of soul, pop, rock, gospel and blues, Tim Be Told has emerged in the Charlottesville music scene with their own unique sound. Recent winners of UVa's 2008 Battle of the Bands, Tim Be Told hopes that their music will cause people to view life through a different lens, one of honesty, hope, redemption, and change.

Kelly Zen-Yie Tsai

A Chicago-born, Brooklyn-based Chinese Taiwanese American spoken word artist who fights for cultural pride and survival through how she spits and how she lives. Touring extensively worldwide, she has been featured at over 300 performances worldwide including three seasons on "Russell Simmons Presents HBO Def Poetry".

Vudoo Soul

This MIT-graduate-turned-R&B singer is quickly emerging as one of the freshest faces with the most distinct styles in music today. He quickly became a self-taught pianist and songwriter, developing a keen resourcefulness and relentless optimism in his hustle as music's underdog. Grand-prize winner of multiple Asian American competitions, he continues to bring an inspiring and heart-felt voice to audiences across the nation.