Thursday Evening Mixers: Local Kick-Off Event!

Coming in to Philly a little early? Dead tired from driving all day? Don't worry—we've got you covered! Join us for a delectable Pan-Asian comfort food mixer as you relax, unwind, and gear up for the rest of the weekend. Come hungry and satisfy those cravings for some delicious Singapore noodle, street-vendor-esque takoyaki, spicy channa masala, and Korean sushi kimbap, just to name a few!
Friday Afternoon Mixers: Philly Walking Tours
Just got out of bed and smelling the fresh spring air? Well you probably will be when ECAASU 2010 comes around, and we'll be ready with one of our fun mixer events: we are organizing fun local walking tours!
Composed of smaller groups where you can meet new people and traverse Philly's landscape more quickly, the tours and their guides will be covering a number of areas in Philadelphia over a relaxing lunch break:
Ben Franklin Parkway (Museums)
Chinatown & Reading Terminal Market
Rittenhouse Square & Love Park
Historic Philadelphia
South Street
South Philly (Pat's and Geno's cheesesteaks)

University City (UPenn Campus)
Friday Evening Mixers: Bubble Tea & Mango Lassi Social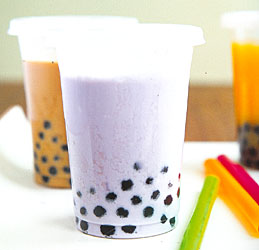 "Perfectly cooked, chewy tapioca balls soaked in brewed black tea and milk and honey...


Deliciously sweetened kesar mango pulp blended with yoghurt, cream or ice cream..."
Combine the two popular East and South Asian drinks and you've got one mouth-drooling event to kick-off the conference with an exciting lineup of performers to follow in the ECAASU Opening Ceremony! So come and sip away on Bubble Tea and Mango Lassi as you meet and mingle with other conference attendees!"